Coloff Media is an Iowa owned and operated company that owns and operates 12 radio stations located throughout the Northern one-third of Iowa.  In addition, our sister company, Coloff Digital, provides digital marketing and website design services to small and medium sized businesses throughout Iowa.
Coloff Media is owned by Jim Coloff, second generation owner/operator who purchased the remaining assets of the company from his parents, Tony and Sue Coloff.  The Coloff's started serving our customers in 1978 when Tony and Sue started KIOW Radio in Forest City, Iowa, giving the home of Winnebago Industries their first and only radio station.  Their son Jim joined them in 1991 when they put KMCH Radio on-the-air in Manchester, Iowa.  Since that time the company has grown to include radio stations in Mason City, Waterloo/Cedar Falls, Charles City, New Hampton and Britt.  Coloff Digital has offices in Forest City and Cedar Falls.
Coloff Media is the only company in Iowa to boast three Iowa Broadcaster of the Year award winners
---
Tony Coloff was named Iowa Broadcaster of the Year in 1995, and was elected to the Iowa Broadcasting Hall of Fame in 2014.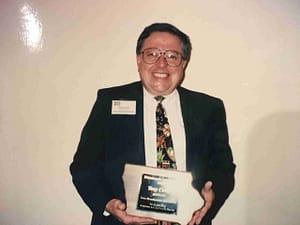 Tony Coloff in 1995 as Broadcaster of the Year
Jim Coloff was named Iowa Broadcaster of the Year in 2007.
Dolly Fortier, afternoon host of Coloff owned KCFI Radio, was named Broadcaster of the Year in 2016.
Coloff Media is owner of KCVM-FM, Cedar Falls/Waterloo, Iowa's only 5 time winner of the coveted Crystal Award presented by the National Association of Broadcasters.
KCVM is also the only Iowa station to be awarded the Heritage Award by the NAB, an award given to just 9 radio stations in the United States in recognition of their long history of community service.
NAB Heritage Award