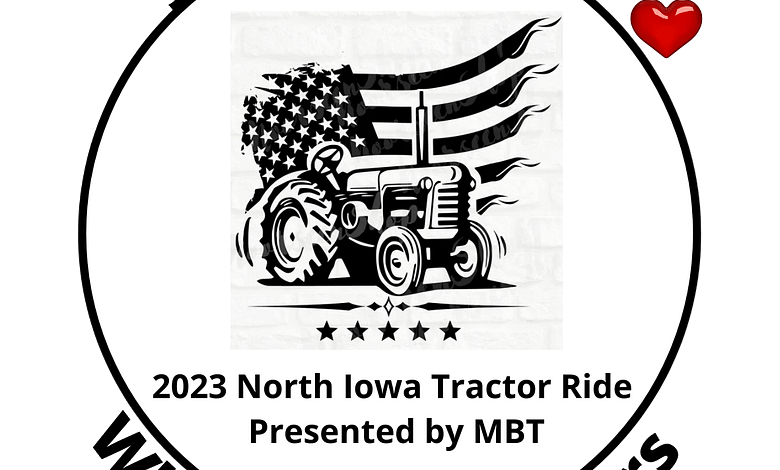 The 2023 North Iowa Tractor Ride, presented by MBT Bank along with 98.7 KISS Country, 103.7 The Fox and 95.1 The Bull, recently announced.
The 2023 North Iowa Tractor Ride presented by MBT and hosted by local radio stations 98.7 Kiss Country, 103.7 The Fox and 95.1 The Bull are celebrating the 16 year anniversary of the ride July 20th – July 22nd!
Headquartered at Central College in Pella, Iowa. 200 vintage and restored tractors along with their pre registered drivers, friends and family will start signing in, receiving goodie bags, T-shirts, and tractor signage on Thursday afternoon July 20th, before taking part in the evening meal and drivers safety meeting. The ride is sponsored by MBT, MN-Iowa Electric Motors and Equipment, Mason City Red Power, Petro Blend, Mason City Ford and Chrysler, North Iowa Area Community College, J&M Tire, Fox Auction Company, Mason City Powersports and Mary Klaes Photography.
Friday morning groups will roll out – one by one – in four separate groups based on their desired speed and make their way south, by Red Rock Lake to Knoxville for mid morning break, then on to Bussey for lunch, Harvey for an afternoon break and back to Central College for Overnight. Friday evening drivers are free to explore the community of Pella.
Saturday morning, the riders will make their way over the hills and around the curves to Taintor, continue North to Lynville and then head South to Peoria before ending back in Pella.
Learn more at: https://northiowatractorride.com/